Floats
Equipments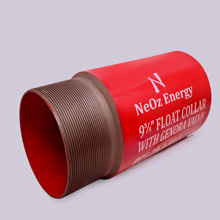 NeOz manufactures high quality Float Equipments designed and tested as per American Petroleum Institute Recommended Practices 10F.
The standard Float Equipments use the Manual fill Float Shoe and Collars which comes with the 'Genora' valve, a spring–plunger one way check valve to withstand high temperature and high flow rates and designed to meet API recommended practice 10F. The 'Genora' valve can withstand the abrasive wear of the mud and cement during mud circulation period. These are available in three different sizes so that the flow area can be optimized.
These products are designed in such a way so that the drillability is easy and no time loss with either conventional rotary bits or PDC bits.
NeOz Float Equipment are available from sizes 4-1/2" till 36" in various API grades seamless pipe with regular as well as special Threads. NeOz recommends using NeOz Cementing Plugs -rotational or non-rotational along with NeOz Float Equipments.
All NeOz Float Equipments are available with 24x7 technical support for the fast paced drilling industry. With our strong logistics partners we can provide you equipments within three days anywhere around the world based on our stocks and inventories.