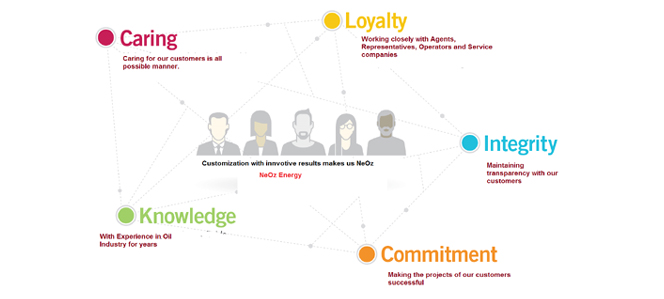 NeOz corporate values are client driven. We are continuously working to attune ourselves to our clients' needs, to keep on improving every aspect of our research offerings, to develop innovative new products and to be an integral part of our clients' information systems.
Our core values shape the culture and define the character of our company. They guide how we behave and make decisions. Fulfilling our obligation of building a better, stronger and more durable company for future generations, protecting the NeOz brand, acting with an owner mentality, developing our people and helping improve communities and the global environment.
We strive to develop and become the leaders necessary to realize excellence in the cementation field. We establish bold visions and invest others in working towards them. We work in purposeful, strategic, and resourceful ways, define broadly what is within our control to solve, and learn and improve constantly. We operate with a sense of possibility, persevere in the face of challenges, ensure alignment between our actions and beliefs, and assume personal responsibility for results.